The second floor holds the business office and has four workstations. A large conference room, situated just above the showroom, is designed for educational training and meetings. A whiteboard, overhead, and media capabilities provide up-to-date technology. The room will be used for business meetings and is open to the public for use if available. The dealer office is also housed on the second floor as well as an additional comfortable quiet waiting area. This balcony is attached to the showroom by a beautiful glass staircase, which brings in the natural elements of wood on the treads as well as the foundation encased in reclaimed wood. The stairway also houses a large pond and waterfall. This architectural piece is made of stone and filled with greens and live fish. The north side of the facility provides a unique area designed specifically for the customers' convenience. The F&I office sits directly across from the new car delivery area so customers can see their new vehicles as they finish paperwork. Then, they can walk around the car free from the elements in a climate-controlled area.
Our service area can accommodate the needs of any vehicle repair or maintenance requirement. Customers can pull up to the large service doors which automatically open providing an easy, dry drop-off and pick-up. The service write-up area is situated right next to the drive-in lane where our service staff welcomes and assists customers. Once the car is checked in the customer can enter the waiting area adjacent.
The new Fernelius dealership provides vehicle service like no other in the Cheboygan zip code area. Servicing your vehicle has never been easier! Eight stalls, high tech equipment, and certified technicians mean we are equipped to handle any car care needs promptly, efficiently and with the peace of mind knowing it is properly serviced and ready to go. In addition, the facility has two quick lube stations and wash bays. We meet customer's auto parts requests at our new parts entrance and service area. Our parts inventory is large and can accommodate customer needs.
When designing the dealership, we looked at every way possible to provide a comfortable facility, while also being attentive to our environment. Our large waste oil burners help to make our facility "green" as we use oil waste to burn and operate our in-floor heating system. This heater also keeps the area outside of the showroom clear from ice and snow.
The facility was designed with the customer in mind. Large HD televisions, surround sound music, and of course, the best new Chrysler, Dodge, Jeep, Ram selection around adds to the climate. Future plans include a full functioning café. We invite the Cheboygan zip code community and beyond to stop in anytime to see what all of the talk is about and let us know what we can do to meet your vehicle needs.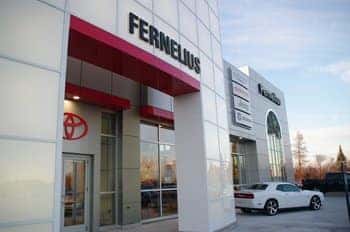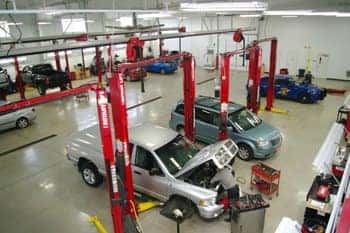 Photos courtesy of Jerry Pond.