Pre-Owned or New?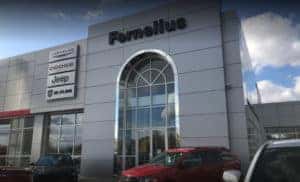 Ready to get behind a different set of wheels, but not sure if you want a pre-owned or brand-new vehicle? Fernelius Chrysler Dodge Jeep Ram offers both, and we'll gladly help find the best car for you. We proudly serve all of Northern Michigan, from Cheboygan to Indian River, and have an extensive inventory of both used vehicles and new vehicles.
There are advantages to both pre-owned and new cars, but here are a few of the main points to consider:
… is easier on your wallet. The difference between the average price of a new car and the average price of a used car is more than $10,000.
… provides you with the option of buying a higher-end automobile. Perhaps you've always wanted a Dodge Viper, for example. Purchasing used might put your dream car within reach.
… has already been thoroughly ranked and researched. If a model has been around for a long time, you'll easily be able to discover if it is known to have long-term issues.
A new vehicle …
… doesn't have a history. You'll never have to ask questions about the state of a car's transmission, when it was last taken into service, or how old its tires are.
… is easier to purchase. You don't need to do extensive research or request a Carfax or AutoCheck report, because you'll know it has never been in an accident.
… often comes with various offers and incentives. Whether it's cashback or free oil changes, it's always nice to get a little extra something when you bring home a new car.
Regardless of the type of vehicle you choose, there's sure to be one for sale in Cheboygan at Fernelius Chrysler Dodge Jeep Ram. Come see us on North Straits Highway, or call 231-268-7726 to speak with a Fernelius team member.