Looking for the best bike trails in Michigan? Sometimes it's ultimately more relaxing to climb off your four-wheeled ride on to one with only two. And lucky for you, Michigan is the #1 Trail State in the nation! If you're the kind of person who uses their Chrysler, Dodge, Jeep, Ram vehicle to travel with your bike out into the wilderness, our staff's list of their favorite Michigan bike trails might give you a new favorite spot to explore. Read the Fernelius Chrysler Dodge Jeep Ram list of Michigan mountain bike trails here, and get pedaling!
Copper Harbor Trails
Advanced riders will love Copper Harbor Trails, set to be completed in 2020 with 37 miles of tracks built for marked and solid biking in some of the most remote terrain available in Michigan. Pay close attention to the especially wild 12-mile stretch planned from Keweenaw Point out to High Rock Bay when you visit, completing the track's most scenic vantage. Careful – this one is built for serious riders!
Addison Oaks
For less-gnarly riders, Addison Oaks offers challenging, but intermediate trails set in the 794-acre park. You'll find plenty of opportunity for speed as you barrel down these dirt trails, but they're well-marked, and the series of bridges you cross will give you plenty of opportunity to stop and breathe in the only slightly-elevated air.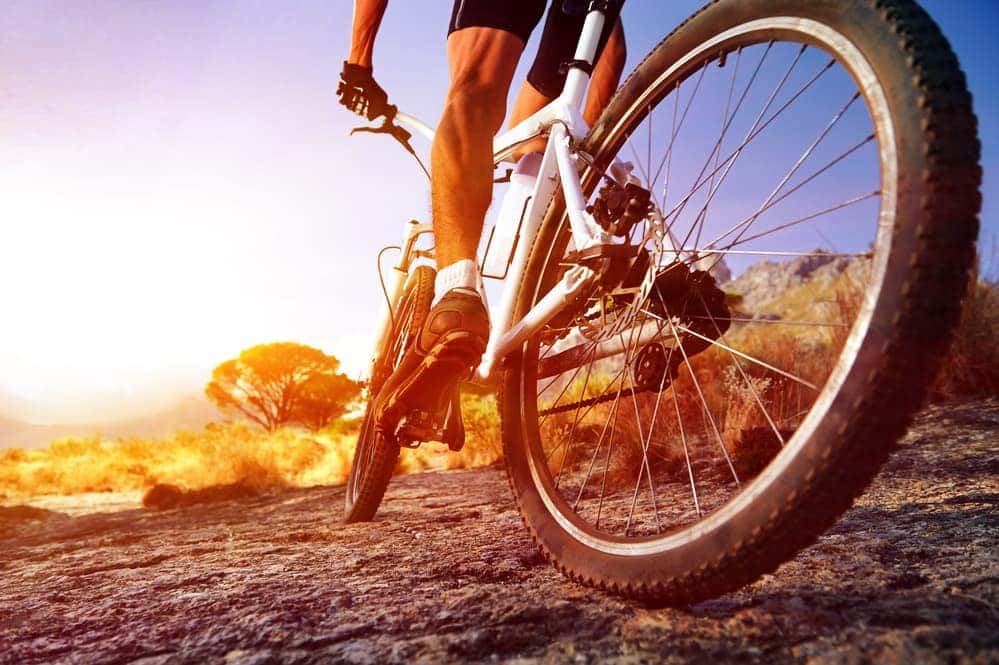 Deerfield Park
Relaxation is the name of the game at Deerfield Park, where flatter terrain and plenty of two-track trails give visitors a great place to come with their families for a variety of activities beyond biking – including camping, gorgeous views of the Chippewa river, and rests under covered bridges. Take advantage of the lack of elevation, and give your kids a great introduction to the sport.
Brighton Rec Area
The four loops in Brighton Rec Area, including Torn Shirt and Murray Lake, cater to beginning mountain bikers looking to step up to more challenging courses, with both tight and fast sections that push riders to step up their abilities. Finding it to be more than you can chew? A shortcut in the middle gives you the option to bail out and keep your ride shorter if you need to head in early.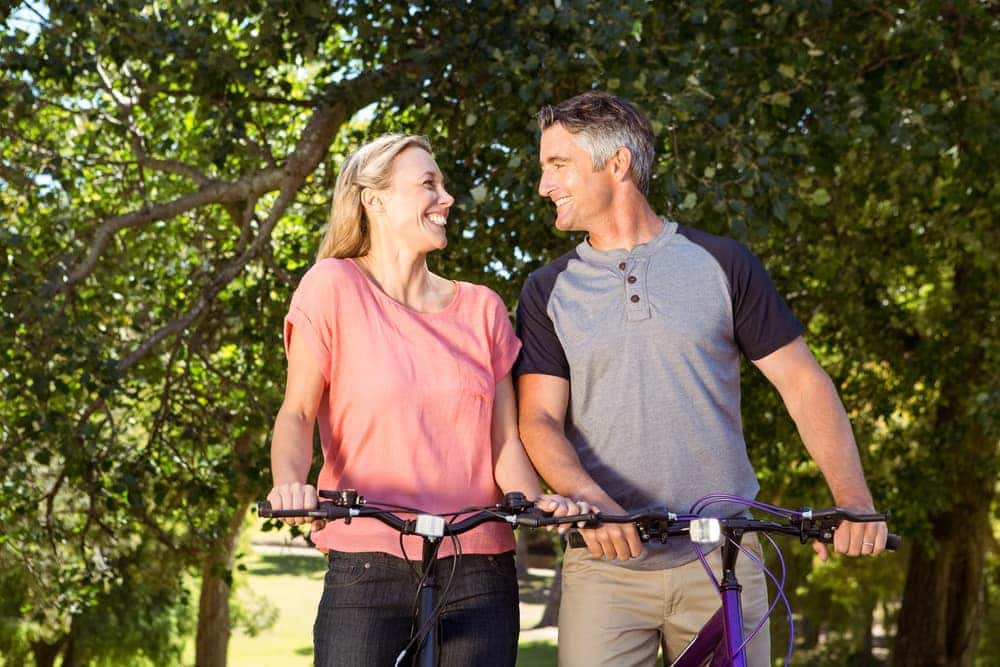 Cheboygan State Park
Located right in our backyard, Cheboygan State Park has a solid trail system consisting of four interconnected loops with bridges and bumps that take it easy on new riders without ever getting boring. The 'green' loop in particular shows off gorgeous views of the water, giving you the option to drop your wheels onto sand and wetter, marshy areas if you don't mind getting dirty.
Find Four Wheels to Haul Your Two Here at Fernelius Chrysler Dodge Jeep Ram
Bringing a bike along on your travels is a solid move for excitement, health, and variety, so visit the fine folks in Cheboygan at Fernelius Chrysler Dodge Jeep Ram for all your needs when it comes to parts and accessories, off-road capable vehicles like the Jeep Wrangler, and solid haulers like the RAM 1500. Contact us if you have ideas of your own to add to this list, or need more ideas for things to do in Cheboygan like visiting the Mackinac Island bridge, or trying out our favorite Michigan hiking spots!
More from Fernelius Chrysler Dodge Jeep Ram
Ready to get behind the wheel of a new Jeep, Dodge, Chrysler, or Ram? Whether you've been eyeing new vehicles or are considering something pre-owned, the team at Fernelius Chrysler Dodge Jeep Ram in Cheboygan is ready to help you find your next ride. Our dealership is equipped to handle all your car-buying needs, whether…

Dashboard warning lights are how every Jeep, Dodge, Chrysler, and Ram communicates that something is wrong. They illuminate briefly as your vehicle warms up, letting you know that all systems are safe and ready to go. But if a light stays on, there's a problem. Here are the most common vehicle warning lights and what…

Purchasing a vehicle is an important decision and at Fernelius, we want to make sure our customers are prepared for every step of the process. This includes making sure you have all the necessary documents and information with you when you come in to purchase your new vehicle. Below are our requirements and recommendations of…